Architectural Specifications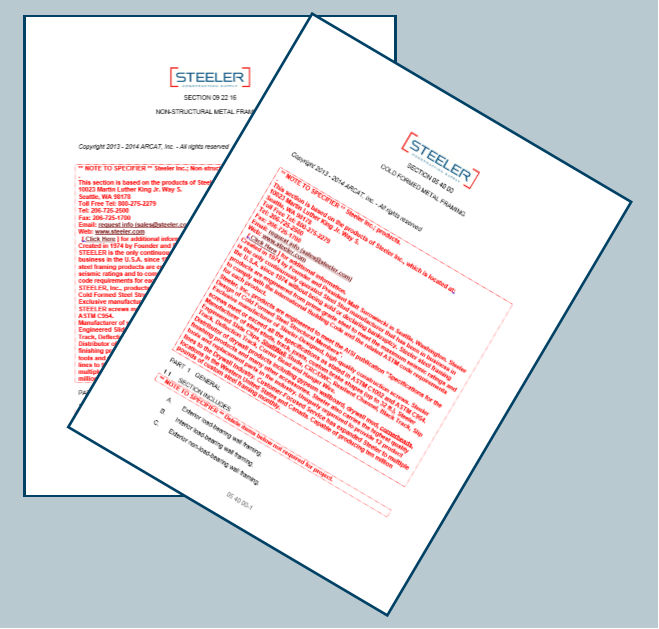 Full Length Specifications for CSI 05 40 00 & 09 22 16
We at Steeler understand the importance of getting our manufactured products named in the specifications. That's why we've partnered with ARCAT to create a host of design-phase tools to help make Steeler products easier to use for everyone on the build team.
One of these tools is our comprehensive Architectural Specifications documents. Simply download the appropriate word document or PDF and edit as needed. The language in these up-to-date documents gives you everything you need to specify Steeler as a preferred manufacturer in your next design.
Architectural Specifications (click to download):
| | |
| --- | --- |
| Section 05 40 00 Cold-Formed Metal Framing | Section 09 22 16 Non-Structural Metal Framing |
If you have any questions about a specification you are putting together, please do not hesitate to contact us! We offer free Architectural Specification review as an added service. Call our Engineering department at 206-725-2500 or email us at engineering@steeler.com.
COMPANY NEWS
Steel 101
Jul, 25 2016 — When Iron Ore mom loves Carbon dad very much and a little heat is applied, Steel is born. ... Read More »
Steel, An Upgrade
Jul, 18 2016 — Cold-formed steel may be your go-to framing system but you can upgrade to Steeler Inc.'s EQ Steel option, the Elite Framing System, the big brother to standard steel products. ... Read More »